Our service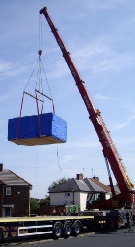 We complete a site survey to assist with the specification and installation plan.
We project manage the design, planning, building control and installation of the building.
Assign you a single point of contact for the project.
We will liaise with the home owner if required.
Latest Projects

Wirral



Follow us on

What are MAP's?
Modular Adaptation Pods are MAJOR ADAPTATIONS that are fully constructed off-site in a factory and can be craned into position within two hours. They are tailored to individual specifications and requirements.
The Major Advantages Are:
Factory constructed, therefore no delays due to weather.
Exceptional build quality.
On site work completed in less than 1 week.
Lifted into position in less than 2 hours.
House owner interior disruption is just 1 day.
Can be delivered and installed within 12 weeks of order - this includes 8 weeks of planning approval.
Tested for lifecycle in excess of 60 years.
Our Product in the media
ITV The West Country Tonight News Report