Site Survey

M.A.P manufacture
Standards
Manufacturing
Manufacturer accredited with ISO9001 quality standard.
Design
Designed to meet Lifetime Homes standard.

Site Preparation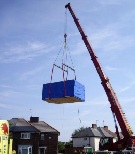 M.A.P Installation
Follow us on

Services
We pride ourselves on providing the highest quality and most comprehensive service in the sector. We achieve this by building excellent open relationships with our customers and our partners.
We offer a full and complete service to our clients, this includes:
Site Survey with key stakeholders to finalise the specification required for the major adaptation during the visit.
Planning we will apply for the Planning Application on your behalf.
Quote and Design including documents needed for grant applications and Building Control as required.
Project Management for one point of contact for transparent access to project progress making project management a formality.
Manufacture of M.A.P to the agreed specification including all the internal fittings flooring and wall treatments.
Groundworks the installation team will be on site the week of the installation to complete the foundations, drainage works etc.
Installation the M.A.P is craned in, utility services connected and access into the house completed.
Guarantee 12 Month Equipment Guarantee, 12 Year Structural Guarantee.
Life Expectancy tested to a 60 Year Minimum.